BMW Goes Green

I found this waiting for me in my inbox this morning - pics of the all new 2008 BMW 7 Series. As some you may know, I've become a bit of a BMW fanatic over the course of the past few months. It started with the BMW M8 concept car pictures that were sent to me. Then it got a little worse with the BMW GINA concept car, and now the new BMW 7 Series has nudged me even further into Bavarian territory.


The internet's been buzzing with excitement since

BMW

officially released the pictures of its new 7 series which to be fair is more of a limo than a regular sedan. The newer model boasts increased fuel efficiency and lower overall consumption than any previous 7 series and also manages to come in at a few kilos lighter thanks to the use of aluminium in the engine.
I haven't had a chance to read to pore over the full technical specifications for the 7 series (available
here
), but some of the gizmos that the new 7 is sporting got me seriously excited. Among others, the gear shifting mechanism is particularly James Bond in appearance. The

7 Series'

s 6 speed automatic transmission is controlled from here and I'm sure all the Flight sim playing millionaires out in the world will completely love it.
Another feature that perked my interest is BMW's ConnectedDrive in dash internet system. This will display the GPS co-ordinates in a large easy to
read manner and also allow the driver to access the net. While I'm not so sure that this is sucha great idea since the primary passenger may have a few other things on their mind such as say - driving, but hey - practicality isn't always a consideration when deciding on how cool something is.
Without going in to too many specifics, the B

MW 7 Series

is slated for a September release and will probably make its way to our shores in 2009. Oh, the estimated price tag is currently at a cool $185,000 which means that this hunk of metal (technically mostly aluminium) will set you back just over R1.4 million . Ouch.


BMW 2008 7 Series Image Gallery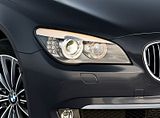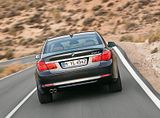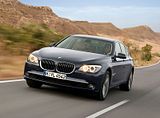 Update: Official BMW 7 Series Video added
If you like this, you might also like:
BMW M8 Concept Car